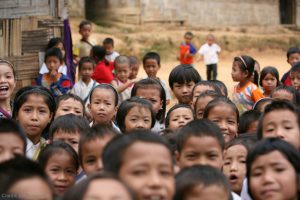 Note: This course is also offered as part of the Professional Development Diploma on Sustainable Development and Human Rights.
Course Description
The 2030 Agenda for Sustainable Development (SDGs) envisages a world of universal respect for human rights and human dignity; a world which invests in its children and in which every child grows up free from violence and exploitation; a world in which every woman and girl enjoys full gender equality and all legal, social and economic barriers to their empowerment have been removed. A just, equitable, tolerant, open and socially inclusive world in which, the needs of the most vulnerable are met.
The first eighteen years of a child's life encompass a wide range of capacities and vulnerabilities. 'Children' in any society, constitute the most vulnerable group who need a nurturing environment and protection for the full realization of their rights and capabilities. Children are critical agents of change and they are a responsibility of the family, society as much as that of the state. Comprehending the need for a consistent and harmonized approach, international agencies and national governments have developed and implemented a variety of child development and child protection measures.
This e-learning course focuses on child rights and child protection issues, which will look closely at the entire gamut of international legal framework on the rights of children and protection of children with a particular focus on child rights violations and remedies globally. The course will explore legal, humanitarian, development and other strategies for understanding and advancing the human rights of children. The course is based on a dynamic pedagogy including reading materials, video clips, case studies, and interactive webinars with the instructor.
Course outline
Week 1: Human Rights of Children: Introduction, Definitions and Conceptual Frameworks
Week 2: International and Regional Legal Framework on Child Rights
Week 3: Vulnerabilities of Children and Violation of Child Rights
Week 4: Gender Based Exploitation and Discrimination, and Protecting Children in Disaster and Emergency Situations
Week 5: Children and the Justice System
Week 6: Enforcement and Monitoring of Children's Rights
Who Should Apply
The course is intended for staff members of civil society organisations and (inter)governmental organisations involved in the fields of child rights promotion, protection of children from sexual exploitation and trafficking, criminal justice, gender equality, development work, human rights, education, health etc. Candidates should have a good written command of English and have high competence and comfort with computer and Internet use.
About the Instructor
Dr. Geeta Sekhon (India) is presently a consultant for the United Nations, focusing predominantly on training and policy design/implementation. She is also a visiting faculty at the UPEACE Human Rights Centre since 2013, where she instructs courses on 'Protection of Children from Sexual Exploitation', 'Trafficking in Persons' and 'Child Rights and Development'. She is a legal professional specializing in Rights of Children. Her thesis on – 'Child Sexual Abuse: A Comparative Study of the Law and Legal Procedures in India and Western Countries' earned her a Doctorate in Law from the University of Delhi, India. She also has a Post Graduate Degree in Law (LL. M) in Constitutional Law and Human Rights. She commenced her professional career in 1992 in the Judge Advocate General (JAG) Branch of the Indian Navy and subsequently joined academics and taught graduate and post-graduate students of law. She was a visiting faculty in several countries in South Asia. Since 2007 she has been associated with the UN and has performed multifarious tasks as a Project Coordinator and as a Consultant with extensive professional experience in the South Asia and South East Asia region on issues related to Child Sexual Exploitation and Trafficking in Persons. She has authored multiple documents on the two subjects.
Course Fee
For Certificate: Fee for taking this course is USD 600. UPEACE students and almuni enrolling for the Certificate course are entitled to 30% discount on the fee.
For Auditing: It is also possible to audit the course, in which case, participants will not receive a certificate. Auditors, however, will have access to all course material, be able to participate in the synchronous webinar sessions, and be able to monitor the online discussions of participants. The fee for auditing the course is USD 200.
For Certificate and 2 Academic Credits: Participants are also able to take the course for two academic credits offered by UPEACE. The cost of taking the course for 2 academic credits is USD 1100.
Application Procedure
To apply, please fill up the enrolment form. Applicants will be contacted within three working days of the application. The diploma is limited to 25 participants.
Payment
Payments may be made either by credit card or by wire transfer. Payment by wire transfer usually takes three to four business days to be deposited in our account. Payment by credit card is instant.
If you wish to make the payment by credit card, please go to https://payments.upeace.org/hrc/
Payments by wire transfer must be made to the following bank account:
Universidad para la Paz
Banco Nacional de Costa Rica
Bank account number:100-02-099-600195-4
Swift Code: BNCRCRSJ and IBAN: CR57015109910026001958
Avenidas 1 y 3, Calle 4
San José, Costa Rica